The trees on the Katsura campus are about to change color, so it may seem a bit out of season, but I would like to introduce a summer tradition at the Department of Chemical Engineering.
On July 9th, the 2021 process design presentation was held. Two groups from this course made presentations on the following topics.
"Production of Ethyl Tertiary Butyl Ether" Atsuya Kato, Hanako Mishima
"Production of 1,3-Butadiene from Ethanol" Yuki Kawaguchi, Hirotaka Funabashi, Takeshi Yamamoto
Last year, the presentation was done online due to infection, but this year we were able to do it in person.
They set our own theme and overcame various difficulties to arrive at the day. The presentation was held in a larger hall than usual,  but the students gave a magnificent presentation and did their best to answer the sharp comments from the teachers.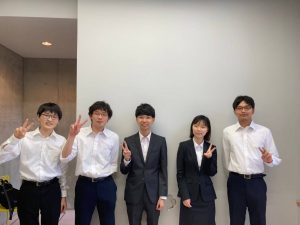 I'm looking forward to your graduation research presentations! (Masks are removed only when taking pictures.)