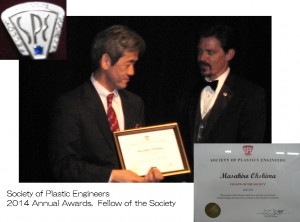 2014年4月27日に行われたSociety of Plastic EngineersのCelebrates Banquetで、大嶋正裕教授がフェローの称号を授与されました。
30年間で日本人としては2人目です。以下が、そのCitationです。
For his outstanding research in the fields of foam processing and super-critical CO2 assisted polymer processing. He was the first person to experimentally prove the existence of an influence region surrounding a nucleated bubble through a high speed video and then correlating the results to foam nucleation and growth models in microcellular plastics and thermoplastic using environmentally safe blowing agents (CFC-fee) such as carbon dioxide.  This fundamental work has helped others see the intricate details of the foaming process at very early stages of foam expansion and has impacted how to utilize an environmentally safe non-flammable blowing agent to improve safety in the foam industry. His recent work focuses on nano-composites foams and nano-cellular foams. His research uses nano-scale ordered disperse domain morphology for foaming and it generated unique cell structures below the 100 nanometer range.  Some of his findings are fists in the foams world and have attracted numerous foam scientists and engineers both from universities and industries around the globe.