Nov. 2
15:00〜17:00
Registration
17:30〜19:30
Welcome Reception
Buffet Restaurant "Mugi-batake"
Nov. 3
8:50〜
Opening Remarks
Sakura Hall
9:00〜10:00
Keynote Lectures
Sakura Hall
10:20〜11:50
Poster Session I
Sakura Hall
11:50〜13:20
Lunch
―
13:20〜14:50
Poster Session II
Sakura Hall
15:00〜16:00
Oral Session (Invited speakers)
Sakura Hall
16:10〜17:30
Oral Session (Invited speakers)
Sakura Hall
18:30〜20:30
Banquet
Fuji Hall
Nov. 4
9:00〜10:20
Oral Session (Invited speakers)
Sakura Hall
10:40〜11:40
Oral Session (Invited speakers)
Sakura Hall
11:40〜11:50
Closing remarks
Sakura Hall
12:15〜18:15
Excursion
Nov. 5
9:00〜10:30
Joint Member Meeting between the Division of Materials and Interfaces of
SCEJ and the Division of Materials of KIChE
Invited Speakers
Keynote and invited oral speakers have been fixed as follows.
Keynote:

Minoru Miyahara (Kyoto Univ.)
Yoon-Bong Hahn (Chonbuk National Univ.)

Oral:

Tetsuya Yamamoto (Nagoya Univ.)
Karthick Kannan (Sungkyunkwan Univ.)
Tatsuya Shoji (Osaka City Univ.)
Chinho Park (Yeungnam Univ.)
Hiroshi Takiyama (Tokyo Univ. of Agric. and Tech.)
Sung Min Cho (Sungkyunkwan Univ.)
Yoshitaka Takagai (Fukushima Univ.)
Doh Chang Lee (KAIST)
Yasuhisa Adachi (Univ. of Tsukuba)
Sukbin Lee (UNIST)
Hiroyuki Shinto (Fukuoka Univ.)
Jaeyun Kim (Sungkyunkwan Univ.)
Watcharop Chaikittisilp (The Univ. of Tokyo)
Yongchai Kwon (Seoul National Univ. of Sci. and Tech.)
Conference Room
All presentations will be performed in Sakura Hall, 2nd floor of Gotemba Kogen Hotel. Sakura hall will be devided into two for oral and poster sessions, respectively. Below is a sketch map of 2nd floor.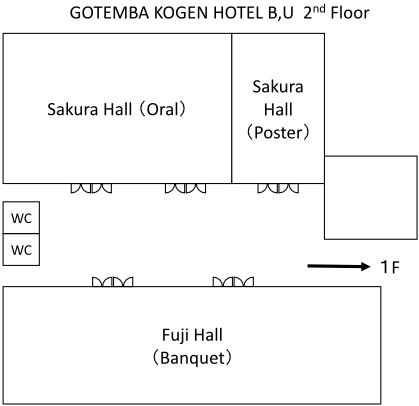 Date & time:
4 November 2016, 12:15
Tentative schedule:
12:15 Hotel == 12:35
Gotemba Premium Outlets
14:00 == 14:40
Hakone Sightseeing Cruise
15:45 == 16:10
Mishima Sky Walk
17:00 == 18:15 Hotel
Registration:
Those who want to join the excursion are kindly requested to register on the
registration page
(JPY 6,800).
A lunch box will be served during the tour.
* The excursion will be operated with the minimum passenger count of 20. With the number of paticipants less than 20, the excursion may be cancelled.
The excursion will be conducted. Thanks for your participation.